Is it really possible? I've always wanted really clear skin... not just acne free, but that beautiful, soft, never had a blemish, mosquito bite, scratch, just slid out of the womb type of clear skin.
Skin like Gabbys... I just spent like 15 minutes looking for a pic of Gabrielle Union where her skin looks as flawless as it does in my mind.... Couldn't really find one, but here's the closest I could get :-p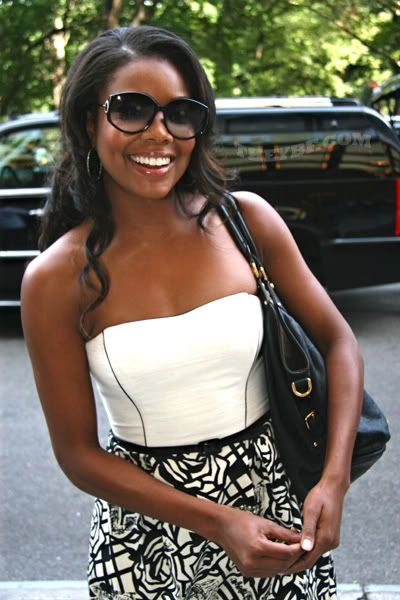 I just liked this pic.... She's fabulous.... I might have to get a vacation weave that looks like this for Miami
<------ Moving on.... So starting last week I embarked on my 30 day skin challenge, which is to follow a real face regimen for 30 days. My current face regimen, at least for the last few months, has been to wash my face with Neutragena Clear Pore face wash or Neutragena Blackhead eliminating acne wash. I ran out of moisturizer a while ago so I just threw some Palmer's cocoa butter on my face or used some jojoba oil. Needless to say my skin wasn't in the best shape. It was horrible, but I was getting more acne (and thus more dark marks), my skin was dull, and my pores looked like craters. So I figured I'd see how good I could get my skin to look JUST from taking care of it properly at home. One of my goals is to get a facial, so I might get the facial to top off the 30 days... we'll see :-) Here are my goals: 1- Reduce my dark marks and even out skin tone 2- Significantly brighten my skin (not bright like lighten, but brighten like revitalize and get all the dead skin dullness off. ) 3- Tighten and cleanse my pores (I think that helps with brightness) 4- Reduce acne and learn how to quickly treat any bumps that pop up. 5- Soften and moisturize Here are the players:
The Clinique 3 step system for Acne:

Step 1: Cleanse with Acne Solutions Cleansing Foam
Step 2: Exfoliate with Acne Solutions Clarifying Lotion
Step 3: Moisturize with Acne Solutions Clearing Moisturizer Oil-Free
I chose this because the reviews were really good and it took care of the 3 main skincare steps in one easy to find kit.
Origins "Have a Nice Day" Super charged Moisture cream. This is the cream that I used to use. It's really good in the winter. I originally was just going to use the moisturizer in the 3-step kit, but my skin was really really dry and I needed an additional moisturizer... The chick at the Clinique counter told me I'd probably need one, but I didn't listen.
Origins "Clear Improvement" Active Charcoal mask. I also used this mask in the past. It's supposed to help deep clean pores. Apparently when pores get clogged your skin looks "cloudy". We don't want that. I recall I liked it in the past... plus it's just fun to play with masks.
So these are the tools. I started this about a week ago, but the actual 30 day challenge started yesterday February 1. I took my pics of my skin the day I started using the products so we'd have an accurate "before" shot. Warning... my skin is a mess... but I will embarrass myself in the name of science:
So above you can see my head on shot: notice all the dark marks on my forehead and general tight, dryness of my skin. Ignore my 'flicted expression... I was tryna smile with my eyes. :-p
The next shots you can see my trouble areas, my big chipmunk cheeks
. I always get blemishes there and because of the blemishes I also get dark marks. You can see an example of both and my large crater pores in better detail in the disturbing macro photo here ------ >
So this is what I'm looking like know... My skin SHO ain't lookin like Gabby's...
I'll update around 15 days
N :-)