Just Because I love da pugs.....
Jessica Alba has two pugs, Sid and Nancy.
Kelly Osbourne with her pug, Prudence. I need a hoodie like that for Leroy...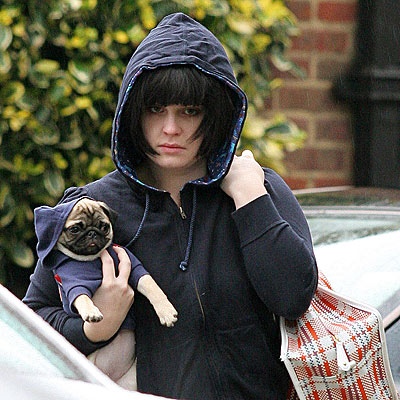 Tori Spelling with her pug, Mimi La Rue, and her family. I love her. R.I.P Mimi La Rue :-(
George Clooney's sexy ass has a pug...
Paula Abdul is crazy, but has a cute pug, Puggy Sue.
Valentino has SIX pugs.
Ted Danson has a pug.
Nick Carter (LOL) from Backstreet Boys has two pugs.
Denise Richards has a pug, who is famous for his appearance on The Dog Whisperer.
Eva Longoria is now the new mom of a precious black puppy.
Brooke Mueller (Charlie Sheen's fiancee) has two pugs..... after seeing this carrier NO ONE has a right to make fun of my dog sling :-p
Gerard Butler has a pug, Lolita.
Debra Messing with her pug on Rodeo Drive. How happy does her pug look! But then again I would be that happy shopping on Rodeo Drive too. :-p
Hope y'all enjoyed the celeb pugs.... BTW I totally stole this from another site. If I remember where I got this I will post it as a footnote :-p